Children's Dentistry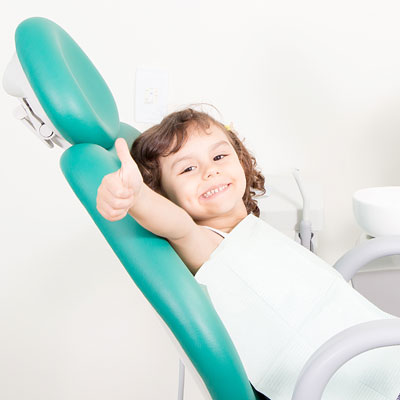 When it comes to a healthy smile, an early start at prevention is key. We recommend that families bring their child in for their first checkup by the time they're 2 or 3 years old.
What Happens During a Child's First Visit?
We like to keep your child's first visit as relaxing and low key as possible. Usually, we have them sit in their parent's lap and ride up and down in the dental chair. Then we'll gently brush their teeth or help them get used to having someone else "count" their teeth or look into their mouth with a small mirror.
This simple visit helps to set the tone for your child's future dental appointments. When they get to experience dental care in a non-threatening manner, it helps to reduce the risk of anxiety or phobia of the dentist's office. Instead, they get to partake in oral health care in a calm and relaxing environment.
At the end of the visit, we'll take a photo with your child and send them with a goody bag (including a toothbrush and toothpaste). They'll have plenty to talk about during their next school show-and-tell day!
Prevention is Key
Intercepting dental problems while they're in the earliest stages is best for your child's growing smile. Since cavities can spread quite rapidly in primary (baby) teeth, it's crucial to stop and treat tooth decay as soon as it's diagnosed.
We work with your child to develop good oral hygiene habits — including proper brushing and dietary choices — to lower their risk of dental decay. They'll even receive a small timer in their new patient goody bag, to help them brush for a full two minutes twice per day. As your family dentist, we equip parents with the resources and information they need to help their child keep their teeth healthy. During your child's checkup, we'll share modified and individualized oral hygiene tips to incorporate into your daily brushing and flossing routine.
Good Habits Start Young
Although your young child doesn't yet have the dexterity to clean their teeth on their own, you can begin forming good oral hygiene habits by helping them with their daily brushing and flossing routine. Here are some important tips to keep in mind
Brush twice per day, for two minutes at a time
Use a pea-sized amount of fluoride toothpaste
Floss between teeth at least once daily
Only drink water between meals
Never put baby/toddler to bed with milk or juice
Brush in a circular pattern, paying attention to the gumlines
Have your child wear a mouthguard during sporting activities
Be sure to help your child brush and floss, at least until they're old enough to tie a pair of shoes. Although you can encourage them to brush on their own, always go back behind them to ensure that everything is being brushed and flossed thoroughly.


Children's Dentistry Services
Fissure Sealants
The permanent molars usually erupt around the ages of 6 and 12, respectively (although it can vary from one child to the next). Since these back teeth have deep pits and fissures, they're difficult for children to keep clean. As such, they tend to be some of the first teeth to develop decay.
To prevent cavities, we can place protective fissure sealants over the deep grooves of permanent molars, making it easier to thoroughly clean them with a toothbrush. As a result, dental decay rates for children are lowered.
Getting a sealant only takes a few minutes per tooth and no numbing or drilling is necessary. Usually we place sealants at the time of your child's checkup if the permanent molars are fully erupted. Since they aren't fillings, it's possible for sealants to come off (especially if your child eats sticky food). We'll inspect them at each checkup to make sure they're intact or need to be touched up.
Dental Fillings for Children
If your child has a cavity, we'll want to treat the decay before it can spread into adjacent or developing teeth. Primary teeth are weaker than their permanent replacements, so it's essential that we intercept dental decay as soon as it's diagnosed.
To keep your child comfortable, we'll provide laughing gas (nitrous oxide) and numb anaesthetic jelly next to the tooth, before numbing it with a small amount of local anaesthetic. From there, the cavity is cleaned away and a small white filling is placed.
We'll review basic oral care and dietary choices with your child and family, to help rule out any risk factors that could contribute to recurring tooth decay.
Emergency Dentistry for Children
If your child is active in sport, they're at an increased chance of suffering an orofacial injury. Chipped, broken and knocked-out teeth are quite common paediatric dental emergencies. Fortunately, we offer same-day emergency dental care for all ages, including children. If you're trying to reach us after hours, be sure to call our emergency line to reach someone as soon as possible.
Thumb and Finger Sucking
Oral habits like pacifier use, thumb/finger sucking or extended reliance on training cups can lead to permanent orofacial developmental changes. For example, open bites or overbites are quite common in children who self-sooth with sucking habits. By discouraging these habits, parents can help to limit their child's need for extensive orthodontic treatments later in life. Although the results may seem cosmetic in nature, the atypical development can lead to problems like TMJ disorder, speech impediments, dietary concerns and more.
Fortunately, early interception can help to limit malocclusion (misaligned teeth and jaws) or make corrections while your child's mouth is still developing.
Child Dental Benefits Schedule (CDBS)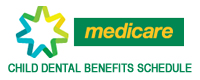 If your family qualifies for Medicare, your child may be eligible to receive up to $1000 in free dental coverage every two years. Qualifying families with children between the ages of 2-17 can take advantage of CDBS benefits. Everything from checkups and sealants to emergency dentistry and paediatric fillings are included. Benefits re-set every two years when families re-enrol. See your Medicare representative for further details.
Looking for a Paediatric Dentist?
Why not bring everyone to the same family dental practice instead? For Children's Dentistry Sydney CBD, request your first visit with us today!
CONTACT US
* Any surgical or invasive procedure carries risks. Before proceeding, you should seek a second opinion from an appropriately qualified health practitioner.

Children's Dentistry in Sydney CBD, Park Street NSW | (02) 9264 5333