Cosmetic Dentistry
We want all of our patients to be happy with their smile. If you would like to improve the appearance of your teeth and gums, we can help you. At She's Apples Dentistry, you can discover a full offering of cosmetic dentistry services. You can come in specifically to have any of these procedures done or speak to our dentist about your concerns at your routine appointment. We'll then plan out any further treatment you require.
Our cosmetic dentistry services include: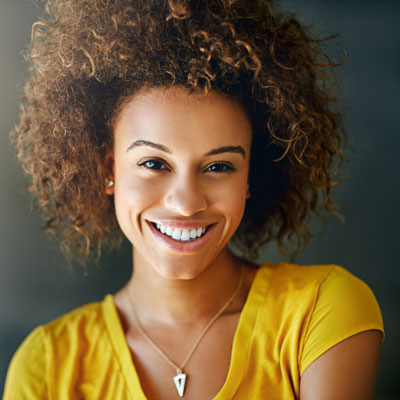 Gum Contouring: Do you need to correct the proportion of gums to teeth? If you have more gum material showing when you smile than you should, we can make a simple correction to your smile.
Teeth Whitening: You can choose to have in-chair or take-home whitening at our practice. We find that our patients love the long-term results from our gentle take-home kits. You'll get custom-created trays, then apply bleaching gel to them. They can be worn overnight or for two hours a day. Your kit can even be reused for touch-ups!
Invisalign®: Straighten your teeth without anyone knowing by using Invisalign. This orthodontic system is nearly invisible and doesn't involve any uncomfortable brackets or wires. We'll review your progress periodically, then make sure you can maintain your results when your treatment is concluded.
Dental Veneers: If you dislike the way your teeth appear, you can make an easy transformation with dental veneers. These thin shells go directly over your existing teeth to give you a beautifully aligned look.
Inlays and Onlays: A damaged tooth can leave you feeling like you have to hide your smile. We can restore it to the proper shape and function using an inlay or onlay. Your inlay or onlay will be custom-created in our laboratory to ensure a perfect fit.
Schedule Your First Visit
Are you interested in making improvements to your smile? Contact She's Apples Dentistry today to book a consultation for cosmetic dentistry Sydney CBD!
CONTACT US
* Any surgical or invasive procedure carries risks. Before proceeding, you should seek a second opinion from an appropriately qualified health practitioner.

Cosmetic Dentist Sydney CBD, Park Street NSW | (02) 9264 5333