Cosmetic Dentistry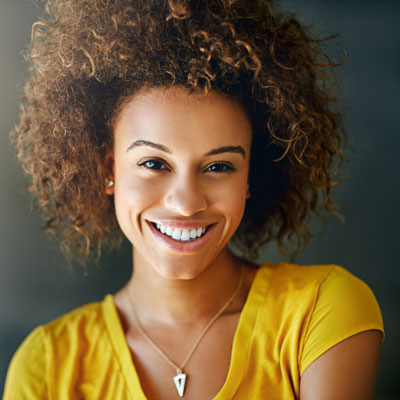 We want all of our patients to be happy with their smile. If you would like to improve the appearance of your teeth and gums, we can help you. At She's Apples Dentistry, you can discover a full offering of cosmetic dentistry services. You can come in specifically to have any of these procedures done or speak to our dentist about your concerns at your routine appointment. We'll then plan out any further treatment you require.
Our cosmetic dentistry services include the following:
Gum Contouring: Do you need to correct the proportion of gums to teeth? If you have more gum material showing when you smile than you should, we can make a simple correction to your smile.
Teeth Whitening: You can choose to have in-chair or take-home whitening at our practice. We find that our patients love the long-term results from our gentle take-home kits. You'll get custom-created trays, then apply bleaching gel to them. They can be worn overnight or for two hours a day. Your kit can even be reused for touch-ups!
Invisalign®: Straighten your teeth without anyone knowing by using Invisalign. This orthodontic system is nearly invisible and doesn't involve any uncomfortable brackets or wires. We'll review your progress periodically, then make sure you can maintain your results when your treatment is concluded.
Dental Veneers: If you dislike the way your teeth appear, you can make an easy transformation with dental veneers. These thin shells go directly over your existing teeth to give you a beautifully aligned look.
Inlays and Onlays: A damaged tooth can leave you feeling like you have to hide your smile. We can restore it to the proper shape and function using an inlay or onlay. Your inlay or onlay will be custom-created in our laboratory to ensure a perfect fit.
Laser Gum Treatment: We can effectively address gummy smiles and gum disease with laser treatment. This non-surgical form of gum treatment is an ideal alternative to traditional gum surgery.
White Filling Replacement: We recommend replacing your white fillings every 5-6 years, depending on your diet. For example, if you consume a lot of black tea or coffee or red wine, your white fillings won't look so bright after a few years.
Three Benefits of Cosmetic Dentistry
Here are some of the many reasons why cosmetic dentistry can benefit you:
Correct an array of aesthetic flaws. Our services can cover or correct the following: stains, chips, cracks, gaps, small teeth and more.
Look younger. As you age, your teeth will likely appear discoloured. With teeth whitening, for example, you can turn back the clock and have a younger-looking appearance.
Feel more confident. When you have various tooth flaws, you likely don't feel like smiling or interacting with others. When your teeth look straight, white and beautiful, however, you will likely have more confidence professionally and personally.
FAQ
Why should I see a cosmetic dentist?
Our cosmetic dentists are highly trained to safely and effectively provide an array of treatments that are designed to enhance your smile. Whether you have crooked or missing teeth, want to align your smile without braces, or get a brighter look, cosmetic dentistry can help you achieve the stunning smile you've always wanted.
How long does each cosmetic treatment take?
Just as every smile we address is unique, so are the treatments we offer. While cosmetic treatment times may vary, there are some cosmetic treatments that we can complete in just one office visit.
Will my insurance cover cosmetic dental treatment?
Out-of-pocket expenses and insurance coverage for cosmetic treatment vary. Our practice can provide several different treatment options, and we will coordinate with your insurance provider, if you have available coverage. You will be informed of all treatment costs up-front so that you can decide on the best payment plan for your needs and your budget.
What causes teeth to discolour?
Tooth discolouration is a normal part of aging. As people grow older, enamel wears down, and teeth tend to look dull. Smoking and consuming coffee and tea also can cause teeth to appear tarnished or dingy.
Other causes of tooth discolouration include side effects of medications, a person's genetic makeup and excessive fluoride use. Teeth whitening and veneers provide an aesthetic solution for those with discoloured or dull-looking teeth.
Are any side effects associated with teeth whitening?
Rest assured that we take protective measures to prevent any discomfort during teeth whitening treatment. Usually, a protective gel or rubber shield is used to keep bleaching agents from damaging delicate gum tissue. The most common bleaching agents used by dentists are approved for use by the Australian Dental Association, ensuring a high degree of safety and effectiveness. After the whitening procedure, you may experience mild tooth sensitivity for a short period.
What are the benefits of an inlay/onlay?
Inlays and onlays restore a tooth to its natural size, shape and—if porcelain is used—colour. Inlays and onlays improve the strength, function and appearance of a broken down tooth that may otherwise be lost.
What cosmetic procedures are available for people who are missing teeth?
Even though dentures are not considered a cosmetic treatment, they offer an aesthetic benefit for those who have lost all or some of their teeth. If you are only missing certain teeth, a dental bridge or dental implants may offer the most ideal solution.
Do you offer sedation before cosmetic treatment?
Yes, we offer nitrous oxide (happy gas) and sedation dentistry to ensure you feel completely comfortable before and during your cosmetic treatment.
The level of sedation that's needed depends on many factors, including your health and medical history and the procedure being performed. Most people do not need a high level of sedation during cosmetic dental procedures.
SCHEDULE YOUR FIRST VISIT
Are you interested in making improvements to your smile? Contact She's Apples Dentistry today to book a consultation for cosmetic dentistry Sydney CBD!
CONTACT US
* Any surgical or invasive procedure carries risks. Before proceeding, you should seek a second opinion from an appropriately qualified health practitioner.

Cosmetic Dentist Sydney CBD, Park Street NSW | (02) 9264 5333