Dental Implants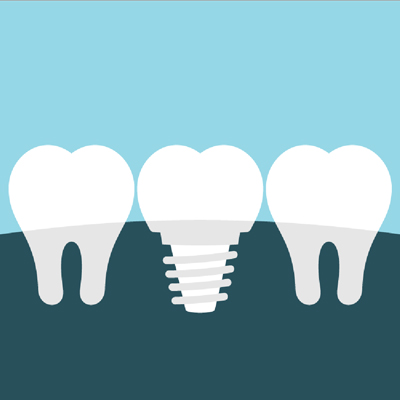 Occasionally, tooth decay, trauma or the passage of time can mean damage to your teeth. If you've lost a tooth or had one extracted, you might be interested to learn about a revolutionary tooth replacement options. Dental implants have transformed the industry, giving you a solution that looks, feels and functions just like a natural tooth.
What Is a Dental Implant?
The implant itself is a metal screw that goes into your jawbone. It is made of titanium or titanium alloy and remains in place for about three months while the bone heals around it. On top of the implant, you can have a crown, bridge or denture attached, depending on how many teeth you need to replace.
The Implant Procedure
We take every measure to ensure your safety while we perform your implant procedure. You don't have to be concerned about discomfort. The surgery takes about an hour to complete. We recommend that you take the following day off work just to give yourself some resting time. After the healing period has passed, you'll return to us to have your restoration affixed to your implant.
Frequently Asked Questions
Am I a candidate for a dental implant?
To determine if you can get a dental implant, we will have to see if you have sufficient bone material in your jaw to be able to accept the implant. If you don't have adequate bone, we may recommend other procedures first. These include a bone graft. Then we can proceed with the implant procedure.
Dental implants have been used for many decades and are considered to be highly safe and effective. As is the case with any medical procedure, however, some complications may arise. Our dentists are highly skilled in implant placement, which can minimise complications and ensure skillful management of any potential problems.
You and your dentist will go over your health history, including habits such as smoking that could affect the success of the implant procedure.
Will I need to be without teeth?
No worries! You won't be left without replacement teeth. If needed, we can provide a temporary prosthesis before your permanent implants are placed.
Do I need to continue to see the dentist after my implants are placed?
Yes, you will need to maintain twice-yearly dental visits to maintain optimal oral health.
Am I too old to get dental implants?
No, many seniors get implants, often replacing loose partials and full dentures. Older patients enjoy being able to chew and speak effortlessly. They also are happy to have a higher quality of life.
When is a bone graft required?
If you don't have enough jawbone, then we have to place additional bone there and usually uses a combination of your own bone and some bovine bone. Sometimes we take patients' blood and can spin that to make a big blood clot and add bovine bone granules to make the basis of a graft. A CT scan will let us know if you have enough bone length or width.
What are the disadvantages of dental implants?
As is the case with any minor oral surgical procedure, you may experience infection, inflammation and pain. However, your dentist will discuss with you how any of these can be managed for your particular situation. If you don't have available bone to place the implant, then we can discuss with you bone and gum grafting procedures. Please note that if you need these, the cost of your treatment will be higher. Remember, however, that your initial investment can pay off in the long run.
How much do implants cost and does insurance cover the cost?
Generally speaking, the cost to replace a single tooth with a dental implant is almost identical to replacing it with a fixed bridge. Your dental implant treatment
may be covered by some insurance
, but situations vary. The cost will vary due to each patient's needs and bone quantity.
What is the success rate of dental implants?
The success rate varies from person to person and with health and habits. Healthy individuals who practice good oral hygiene habits can enjoy high success rates of above 90-95 percent. Dental implants are an excellent investment!
How long will an implant last?
Implants can last for a very long time. If you care for them properly, you can expect to have yours for 40 years or longer.
Are there options for sedation?
We have a fully trained sedationist on staff at She's Apples Dentistry. You can receive oral sedatives or breathe in nitrous oxide to give you an extra measure of relaxation during your implant procedure.
What if I have poor bone density?
We can choose the implant to suit the density of the bone you have.
How do I care for my implants?
As dental implants are a significant financial investment, you want to care for them, so they last for a lifetime. That's why it's critical to adopt good oral hygiene habits, including flossing and brushing with an interdental brush.
Every time you go for a checkup once a crown is put onto the implant, you need to have your bite checked to make sure the crown is of the same height as the other teeth.
If I want to get Invisalign should I do that first?
Yes, before getting an implant, you need to make sure you have moved the other teeth previously if they needed to be moved.
Does it hurt to get dental implants?
The surgical site is always kept numb during dental implant surgery, and a variety of anaesthetic options are available. As the anaesthesia wears off later in the day, any mild discomfort can be easily managed with over-the-counter medications.
GET STARTED TODAY
Dental implants can help you enjoy a higher quality of life and an improved appearance. Learn more about dental implants Sydney CBD and whether they're right for you. Contact our team at She's Apples Dentistry today to schedule your consultation!
CONTACT US
* Any surgical or invasive procedure carries risks. Before proceeding, you should seek a second opinion from an appropriately qualified health practitioner.

Dental Implants Sydney CBD, Park Street NSW | (02) 9264 5333