Dentures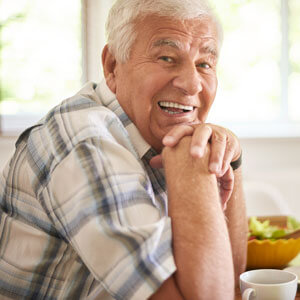 Dentures are removable devices that replace missing teeth. They can restore a few at a time (partials) or all the teeth in an entire arch (full dentures or "plates").
Depending on the type of denture that you're getting, they can be made of a metal, plastic or both. There are several options to choose from!
Types of Denture Materials
Metal base dentures tend to last longer. They're also stable enough to replace all the teeth at once or be used for partial dentures.
With a plastic denture, the prosthesis is usually meant to provide temporary tooth replacement. They may only last for 2-3 years before needing to be updated. People who opt for plastic dentures are usually wearing their appliance while waiting for dental implants or bridges or if they plan to have additional teeth extracted in the future.
Regardless as to what your denture is made from, the pontic (false) teeth attached to the base will be carefully selected from a shade guide so that it resembles your natural smile. Even the pink gum tissues are replicated, so that the entire unit blends in without it detracting from your appearance.
Partial Dentures
Partials only replace the teeth that are missing. They fit into your smile around your existing teeth, preventing additional extractions. A partial will have small clasps on specific areas of the appliance, which wrap around the teeth that are still in your smile (stabilizing the overall prosthesis). Because of these small clasps, you'll want to be sure to thoroughly clean the adjacent teeth so that they're not at an added risk of developing tooth decay.
Although you lose some biting strength with dentures, there's less pressure loss with partials. They're also easier to adjust to, especially for our older patients.
Plastic partial dentures are common for people who need to affordably replace a tooth for cosmetic reasons, or who are planning to get dental implants in the future. Although they're not as durable as those made from a metal base, the results are ideal for someone who needs to quickly replace a missing tooth.
Full Dentures
Complete dentures rest directly on top of your gums. We use them to replace all the teeth (upper or lower arch) at once.
People usually choose full dentures when they need a budget savvy option for complete tooth replacement. You can also elect to wear plates if you choose to eventually get dental implants, allowing you to upgrade your restorations in the future.
If you're getting dentures for the first time, it can take a bit of practice to speak and eat with them in place. Although they look normal, dentures have less biting pressure than natural teeth (as little as 20% of your typical function). As such, you'll want to start out by eating softer foods and cutting your bites into smaller pieces at mealtime. Speech patterns — particularly S and T sounds — can also take a bit of practice to get used to. Fortunately, with plenty of practice and particular attention to the way we design your prosthesis, you can smile and talk with confidence again!
Older individuals may have a particularly harder time adjusting to a full denture may want to opt for dental implants instead.
Full dentures are a great alternative for people who don't qualify for dental implants, either because of extensive bone loss or because of medications that they're taking, such as bisphosphonates.
Implant Supported Dentures
If you struggle with a loose denture or want a more stable alternative to removable prosthetics, then you may want to consider using implants to stabilize your plate.
With an implant supported overdenture, as few as 2-4 implants can provide a base for your appliance to clip into place. Small locators are placed into the base of your denture, which snap over the abutments extending from your implants. Although the entire prosthesis is still removable, it won't rock or slide throughout the day, preventing embarrassing situations or painful sore spots. No gooey adhesives or pastes are needed!
Before considering implants, we'll need to take a CT scan to see how much bone is available where the missing teeth are. In some cases, a bone graft is necessary to create support in the future implant site. With grafting, the process can take up to a year from start to finish. However, people with healthy bone support can complete their dental implant therapy in as little as six months.

Care and Maintenance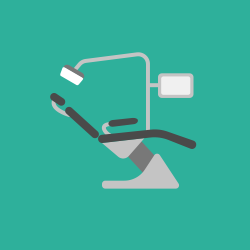 Regular checkups are important, even if you're wearing dentures. Over time it's normal for the base of the denture to feel loose and need to be relined. Even if the base isn't wearing out, your gum tissues and bone support will gradually shrink where there are missing teeth. Adjusting the underside of your plate will keep it fitting properly.
Removable dentures (partial and full) must be removed nightly. Sleeping in your prosthesis can accelerate bone loss and raise your risk of developing an oral infection.
Just like your natural smile, dentures must be cleaned thoroughly each day. Soak your appliance in an approved cleansing solution and brush it thoroughly the next morning. Before putting it back in, clean the inside of your mouth with a damp washcloth or extra-soft toothbrush.
Denture Emergencies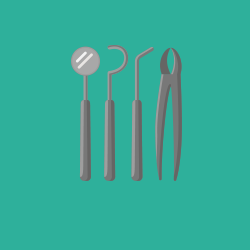 Cracked or broken dentures are some of the most common emergencies that we see in denture wearers. Simply dropping your prosthesis on the floor while you're cleaning it could be enough to break a tooth off or crack the base.
Never attempt to repair your denture on your own, as it could permanently damage the acrylic or metal base. Instead, contact us for a same-day emergency appointment to have your denture repaired.
Which Denture is Right for Me?
For custom Dentures Sydney CBD, contact us to request a consultation. We also offer same-day denture emergency appointments.
* Any surgical or invasive procedure carries risks. Before proceeding, you should seek a second opinion from an appropriately qualified health practitioner.

Dentures in Sydney CBD, Park Street NSW | (02) 9264 5333