Meet Dr Angela Kemm (Dentist)
Growing up, Dr Angela Kemm (Dentist) always thoroughly enjoyed going to the dentist. Dr Kemm enjoys the intellectual aspects of dentistry, combined with helping others and developing relationships. She especially likes helping nervous patients overcome their fear of the dentist. Whether you're looking for a last minute appointment for a dental emergency or a new dentist to partner with for your regular dental check ups, you are in great hands at She's Apples Dentistry.
Striving for Excellence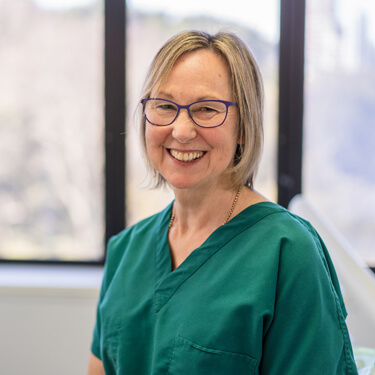 Dr Kemm consistently works towards providing the highest quality of dentistry for her patients. Her breadth and depth of knowledge in all aspects of general dentistry and cosmetic dentistry allows her to achieve the best outcome for all her patients. She's also active in continuing professional education, keeping her abreast of developments and new discoveries in the oral health industry.
For the past two decades, Dr Kemm has continually taken a multidisciplinary approach to caring for our patients. As she expands her skillset and knowledge of modern advancements, she brings those resources back into our practice to incorporate them in areas of care such as dental implants and cosmetic dentistry.
Education and Experience
She completed her degree in dental surgery at the Welsh National School of Medicine in the UK in 1984. After 20 years of working both in private practice and for the Defence force, Angela acquired this established dental practice from Dr Robinson who retired.  Today, she continues the 60-year tradition we have for providing a warm, intimate atmosphere for patients of all ages.
Outside of Dentistry
When she isn't busy working in a dental practice, Dr Kemm sings in a local choir. She's also an avid cyclist and enjoys kayaking. As a Balmain resident, she serves on the Committee of Balmain Institute, organising speakers once a month to come in and talk about current topics of interest.
Meeting You Where You Are
During your first visit with Dr Kemm, she'll spend extra time getting to know you and understand your oral health concerns. She'll share her findings and any images of your mouth so that you can work together with planning your smile's treatment needs
Schedule Your New Patient Visit Today
Contact us now to book your first exam with Dr Kemm. Referring a new patient to our practice? Ask about our complementary teeth whitening kit!
* Any surgical or invasive procedure carries risks. Before proceeding, you should seek a second opinion from an appropriately qualified health practitioner.

Dr Angela Kemm | (02) 9264 5333