Dr Nonie Polycarpou (Dentist)
Dr Nonie Polycarpou (Dentist) provides her patients with genuine holistic dentistry. Her caring, personable nature has helped many of her patients overcome phobias. She also likes to help them achieve and maintain optimal oral health.
Education and Experience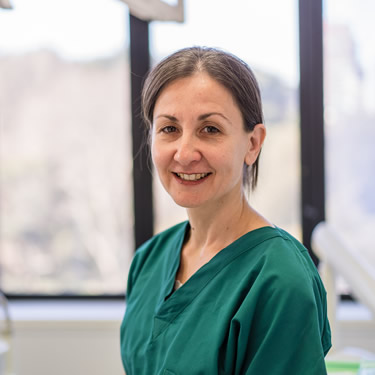 To prepare for her career in dentistry, Dr Nonie Polycarpou completed her Bachelor of Dental Surgery degree at the University of Sydney. She graduated with honours. Dr Nonie's professional journey started working as a dental officer in the Royal Australian Air Force.
During this time, she worked all over Australia treating service personnel. This also led her to her role in an overseas Peace Keeping Mission in Bougainville, PNG. In addition to dentistry, Dr Nonie was the Medical Flight Quality Manager. In that role, she helped in implementing ISO quality standards and undertaking unit audits.
Dr Nonie continues to serve in the RAAF Health reserves. She was involved in developing the current ADF Dental Infection Control policies.
Whilst a RAAF Dental Officer, Dr Nonie worked in private practice on weekends and after hours. She then joined a full-time private practice in 2003. Dr Nonie spent many years working in Newcastle, before moving back to Sydney with her husband and first child in 2008.
Accomplishments
In addition to her role in private practice, Dr Nonie educates current dental students. She serves as Clinical Educator at the University of Sydney. She is also an Honorary Dental Officer at Westmead Hospital.
Dr Nonie is a Fellow of the Royal Australasian College of Dental Surgeons. She is actively involved in college activities as an examiner, observer and mentor.
Dr Nonie completed her Graduate Diploma in Clinical Dentistry – Conscious Sedation and Pain Control. She earned the Graduate Diploma at the University of Sydney in 2002.
Dr Nonie is an endorsed Seditionist by AHPRA and undertakes regular training in clinical sedation and advanced life support. She is also a member of the Australian Society of Dental Anaesthesiology.
To stay abreast of the latest advances in modern dentistry, Dr Nonie undertakes regular Professional development training.
Empowering Her Patients
Dr Nonie is passionate about implementing best practices and current preventative and minimally invasive protocols in managing her patients' oral health. She loves to educate her patients and empower them with the ability to prevent common oral diseases.
In Her Spare Time
Outside of dentistry,  Dr Nonie is happily married and has three young sons. She enjoys DIY projects around the house and gardening. She is often volunteering as a parent helper at her sons' primary school. You can find her chauffeuring her sons to activities like sports, music classes or birthday parties. She also enjoys new adventures with her family and spending time with close friends. Besides English, Dr Nonie also speaks Greek.
Book an Appointment
Contact our dental office today to schedule an appointment with Dr Polycarpou!
CONTACT US
* Any surgical or invasive procedure carries risks. Before proceeding, you should seek a second opinion from an appropriately qualified health practitioner.

Dr Nonie Polycarpou | (02) 9264 5333