General Dentistry
At She's Apples Dentistry, we provide a full range of services to suit your needs. Our family practice welcomes all ages of patients. With our broad array of general dentistry solutions, you can rest assured that we have what you need to keep your teeth healthy for life. We emphasise the importance of minimally invasive dentistry. That means you'll never be overtreated. We'll only recommend what we feel you require, giving you all your possible options so that you can choose what's best for you.
Our general dentistry services include: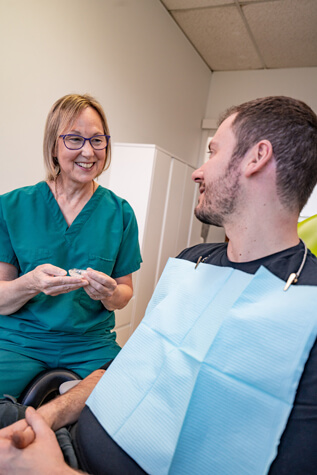 Comprehensive Checkup and Cleans: Every six months, you should have a full dental examination and a hygiene appointment to have your teeth and gums cleaned. If you're a new patient, your appointment will include diagnosis and treatment planning.
White Fillings: When your teeth are damaged by decay, you need to fill the cavity and make sure it doesn't spread. If left untreated, an infection may result, compromising your teeth and leading to tooth loss. A white filling will blend in with your existing tooth structure so that nobody knows it's there.
Inlays and Onlays: Our ceramic inlays or onlays are similar to a filling. They address damage to your teeth but, unlike fillings, they are created in our laboratory. Your custom inlay or onlay is designed to be a perfect fit and restore the health of your tooth.
Dental Crowns: A crown is a cap that goes over a tooth that has been decayed, cracked or worn down. By covering the damage, it restores the health of your tooth and looks completely natural.
Root Canal Treatment: You don't want to lose your natural teeth. When one is infected, you can save it by having a root canal treatment. This comfortable procedure is performed by our experienced team.
Emergency Dental Care: You can ring us at all hours if you have a dental emergency. You'll be able to get ahold of our dentist directly. If you have a situation that needs to be addressed straightaway, we'll have you come into the clinic.
Extractions: On occasion, it may be necessary to have a tooth removed. We have sedation options so that you remain comfortable the entire time. Afterwards, we can advise you on the available tooth replacement solutions.
Gum Treatment: Your teeth aren't the only part of your smile that matters. Your gums are just as important. If you require a deep cleaning of your gums, we can perform your treatment in-house.
Dentures: Dentures come in multiple sizes and are custom made for each patient. Partial dentures consist of a few 'removable teeth' or an entire arch, sometimes called full dentures or plates. Dentures can be made of many different materials, including metal, plastic or both. When you choose dentures, you'll be getting a brand new smile that looks aesthetically pleasing and natural! No matter your age, we're confident that we'll be able to help you get the smile of your dreams back.
Dental Bridges: If you're missing multiple teeth, a dental bridge works to replace those teeth with natural looking crowns custom fit over your teeth. Dental bridges are for patients who may not qualify for an implant due to extensive bone loss, but are ideal for those who might not want to wear a denture. When you visit us for your first appointment, we'll let you know whether or not you are a candidate. During your visit, we'll examine your mouth and teeth to ensure that the best care plan is recommended for you
TMJ- Temporomandibular Joint Dysfunction:
Do you suffer from TMJ pain or jaw "clicking"? The temporomandibular joint, also called TMJ, consists of the region where your mandible attaches to each side of your face. When the joint experiences tension, it can result in TMJ disorder, which can be quite painful when not properly managed. If you find yourself grinding your teeth during the day or night frequently, or subconsciously "clenching" when you're nervous or flustered, you're actually straining the joint and causing fatigue. One of the best treatments which we're happy to offer is an oral appliance. An oral appliance is worn at night to prevent clenching and grinding from occuring, therefore giving your joint the rest and relaxation it needs. Over time, problems associated with TMJ can diminish, though each case and patient is unique. An oral appliance is a great alternative to serious things like surgery or pain medication.
Children's Dentistry: We know that you want the best possible oral health care for your children—and so do we. At She's Apples Dentistry, we're proud to offer dental services specifically for children, starting with their first checkup by the time they're 2 or 3 years of age. When you instill the benefits of proper oral health care in your kids, you're helping them have healthy teeth and gums for life. We'll work with your child from a young age to ensure that they enjoy coming to the dentist and aren't afraid—visits with us are fun and informative. Not to mention, our entire team enjoys working with children. We'll also teach your kids good habits, including the importance of brushing twice each day, the correct amount of toothpaste to use, how to floss correctly between the teeth, discuss the importance of wearing a mouthguard during sporting activities, and let them know about the importance of drinking water between meals to rinse leftover debris that can cause plaque
Schedule Your Appointment
Don't wait to get started on improving your oral health. Contact us by phone or email today to schedule your visit for general dentistry Sydney CBD!
CONTACT US
* Any surgical or invasive procedure carries risks. Before proceeding, you should seek a second opinion from an appropriately qualified health practitioner.

General Dentist Sydney CBD, Park Street NSW | (02) 9264 5333