Teeth Whitening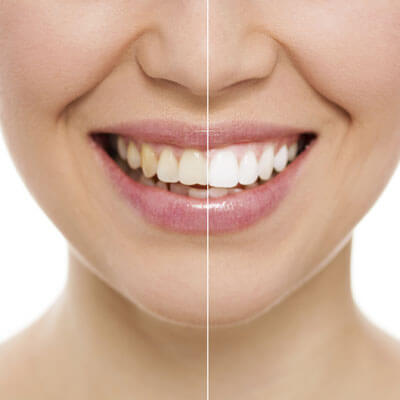 Do you wish you had a bright, gleaming smile that radiates confidence? If you're like many people, your teeth have turned dingy over time. Common tarnishing culprits include coffee, tea, red wine, tobacco and other substances. The good news is you can achieve a dazzling white smile with our teeth whitening system.
At-Home Convenience
While you can have in-chair whitening done at our practice, the teeth whitening method we prefer is an Opalescence take-home kit. Opalescence is the global leader in professional teeth whitening and yields fantastic results for those wishing to brighten their smile. It's convenient, gradual and involves reduced sensitivity.
We use Opalescence because
It's made with fluoride and potassium nitrate to shield your tooth enamel during the whitening process
There are formulations that contain hydrogen peroxide and hydrogen carbamide
Three different flavours are available
The whitening products come in different strengths, ranging from 6% to 15%, so our patients have more options
Whiter teeth can be achieved in as few as four hours a day of wearing Opalescence take-home trays
You can wear Opalescence whitening trays during the day or at night
What's Involved?
We take impressions of your teeth and make small, thin, clear whitening trays. It takes approximately a week from taking the impressions to getting your kit. You will be given a whitening agent (bleach) to take home. Simply apply the bleach into the trays and wear them for a few hours a night. Repeat the process for a few weeks until you've achieved your desired level of whiteness.
You also will be given tooth mousse. After taking off your whitening trays, you would use this dairy-based product on your teeth. It helps to prevent any sensitivity. Because the tooth mousse contains calcium, fluoride and phosphate, it's good for your teeth.
We also will provide you with verbal and written instructions about the entire whitening process. If you have any questions, please don't hesitate to ask a member of our team.
You're in Control
With take-home whitening, you have control of how white you want your teeth to be. The kits contain a much lower concentration of bleach. As the whitening process is gradual, you can stop whenever you want to.
FAQ
How effective is teeth whitening?
The degree of whitening will differ from person to person. Naturally, the more discoloured and stained your teeth are, the longer they will take to whiten. We will take before and after photos so you can clearly see the whitening results. Patients are often pleased to see results straightaway.
Is there anyone who cannot whiten their teeth?
If you are under 18, you shouldn't use teeth whitening products. You also should avoid them if you are pregnant, have health problems, periodontal disease or unhealthy gums. You also should avoid whitening your teeth if they are in poor condition or overly sensitive. Whitening also should be avoided if you wear braces, had recent oral surgery, have decayed teeth or roots that are exposed.
Are there any complications related to teeth whitening?
Some people occasionally get a bit of sensitivity. We give them dairy based tooth mousse each time after they finish and that is good with helping with potential sensitivity. The mousse helps greatly to eliminate that.
Do teeth whiteners damage tooth enamel?
According to some studies of whitening products that use 10% carbamide peroxide, there was little to no effect on the hardness or mineral content of a tooth's enamel surface.
How long do I need to wear the whitening trays each night?
We recommend you wear them for a few hours each evening. You also may wear them overnight if you wish. Always be sure to clean your teeth first before whitening them.
How long can I expect my results to last?
Results can last for 18 months, but it depends on what you eat and drink. For example, you should avoid consuming red wine, black tea and coffee, balsamic vinegar and tobacco.
What can I do to maintain my brighter smile?
Here are some tips:
Avoid consuming staining agents such as black coffee or red wine. If you do elect to consume drinks that stain, consider using a straw so that the liquid bypasses your front teeth.
Brush or rinse right after consuming stain-producing drinks or foods.
Practice good oral hygiene habits. These including brushing your teeth at least twice a day and flossing at least once daily to remove plaque. You also can use a whitening toothpaste (just once or twice a week) to remove surface stains and prevent yellowing. Then, for the rest of the week, use a regular toothpaste.
Touch up your results with whitening treatments. You may need a touch-up every six months or after one or two years. If you smoke or drink a lot of stain-causing liquids, you may need to touch up more frequently.
Are whitening kits from the chemist effective?
While you might experience some whitening with kits you'd buy at the chemist, the ones we provide use professional-strength whitening agent that yields brilliant results. Whitening with an over-the-counter kit also can result in uneven whitening, which is not a good look!
Are whitening products more effective on teeth with stains of particular colours?
Yes. Teeth that are yellowish respond well to bleaching. Brownish-coloured teeth don't respond very well. Teeth that have a grayish or purple hue may not respond well to bleaching at all. Teeth that have very dark stains may respond better to other lightening options. These include veneers, bonding or crowns. Your dentist can discuss the various options that are best suited for your unique situation.
With all forms of bleaching treatments, the degree of whiteness will vary from person to person depending on the condition of the teeth, type of stain, the concentration of the bleach and the duration of time and bleaching method utilised.
REFER A FRIEND, GET A WHITENING KIT!
If you're an existing patient and you refer a friend to the practice, you will receive the whitening kit for free. That's a $350 value!
If you're ready to get the gleaming smile of your dreams, contact us today to schedule an appointment for teeth whitening Sydney CBD.
CONTACT US
* Any surgical or invasive procedure carries risks. Before proceeding, you should seek a second opinion from an appropriately qualified health practitioner.

Teeth Whitening Sydney CBD, Park Street NSW | (02) 9264 5333